BIG DAMN BAND IN THE AMERICAN WEST

On the way to the first show of the tour in Phoenix, we passed through Oklahoma, Texas, and New Mexico. This photo is in front of an abandoned adobe church located at 88431 New Kirk, NM off Route 66.

The terrain in Arizona is beautiful. We were amazed at how much life there was in the desert.

I chased these coyotes up a mountian. They were howling in broad daylight.

The superstition mountains are amazing. Near this spot we saw a fake gunfight, and we toured an abandoned mine.

The show in Phoenix was so much fun. The crowd was awesome, the other bands were killer, and there were kissing booths, live chickens, and…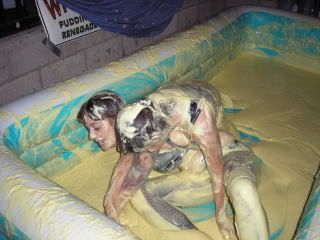 …pudding wrestling.

Hey who wants to put their boob in my scotch?

She does! Wooo!

Bob Log III is awesome. There is no doubt. A group of people came to our show in Portland who said that Bob Log told them that they had to check us out. What an honor!

Pinkus from the Butthole Surfers opened the show with his band HONKY. They are on tour with Nashville Pussy now.

These ladies danced to the side of the stage in cages made of chicken wire, wearing these chicken and guerilla masks.
On the right you will see Keith and Ryan the folks in charge of Hillgrass Bluebilly Entertainment (the promoters of the Phoenix show). They wanted to do a group picture with Grandaddy Log, The Big Damn Band, and these dancers. The drunk chick in the wig snuck in the photo!
Before we went on, the dirty old one man band from Hell – Mr. Scott Biram played. It was a fun bill!
We had a such a fun time in the desert it was hard to say goodbye, but it was only beginning!

When we got to LA we stayed with my friend Jon Rowland. He is an actor, and he must be doing pretty well for himself. This is his view, and his apartment is HUGE.

True to Rock Star form we had to throw pumpkins off of his balcony.

On the way to our show in Ventura we stopped "8 miles North of Malibu out on that PCH." Just like the Otis Gibbs song.

The Pacific Coast Highway and Southern California was pretty beautiful, but if I don't get back to LA anytime real soon I won't cry about it.

Ventura, however, was beautiful. I watched this sunset while Jayme and Breezy took a nap. A woman was crying watching it about 50 feet to my right. A guy walked up behind me and he whispered, "That is why it costs so much to live out here."

First thing we did when we got to Frisco was go across that Big Damn Bridge.

Jayme stands proud.

Jayme in front of The Rock.

Haight Ashbury was a fun district. San Fran has very few rules.

The venue we played at in San Francisco was called 12 Galaxies because of a fairly famous (maybe crazy) guy who protests all kinds of strange things all over San Fran. Apparently his signs don't make much sense, but they always say 12 Galaxies. Places like that are great. No chain stores here.

I fell asleep on the way to Oregon, and when I woke up we were on a mountain and it was snowing. That was nothing compared to the Cascade Mountains.

So many great people took us in and on this trip, and one of those was a songwriter named Jon Itkin who we had never met. He made us breakfast, and his place was great. We were able to use his washer and dryer and the internet!

Portland was one of my favorite shows. This gentleman is Chopper. He is a boot black at the venue that traded a shoe shine for a CD. I told him that the shoes couldn't be shined, and he said he could shine anything. He was right, and I think there is a song in there somewhere.

Playing with Jason Webley was a killer experience. In Seattle he has more than fans. He has a cult.

The place was packed, and it was our first official "all ages" venue that we have ever played. When we go back we'll probably try to find an all ages venue since I think 100 people that signed our email list are under age!

Jason's show cannot be described. I am looking for more pictures online. We just couldn't get any of our to work. You can see here the Tomato Scout Anthem being pulled across on a giant scroll by a group of girls in party dresses. The crowd was told to follow the dancing tomato for lyrics. At one point Jason lubed himself up with crisco, put on a swimming cap, and got into a giant balloon and bounced around the stage. He and his crew threw tomatos and feathers at the crowd. At one point he does battle with his nemesis Alex Xavier the 11th and the whole crowd was given tomatos to throw at a guy in a tuxedo. In Seattle he plays with a whole band, and his show extensive.

Meeting Jason was one of the highlights of this year. He is a one of a kind human being. For breakfast he made us artichokes.

We are about to say goodbye here in this photo. Jayme is holding a cattle prod (yes a real cattle prod Jason actually shocks fans with it). We are holding some left over tomatos, and we are standing in front of a giant paper mache tomato that was used in the show. Jason must have spent a fortune on props. Everyone was entertained though, and I must say I have never experienced anything like it.

Jayme hates getting up in the morning.

The rain in Seattle let up for a time, and we decided to see some sights on our only day off.

Before we knew there was trouble ahead we stopped off at this strange lake in the Cascades.
Little did we know that the only interstate east from Seattle was out due to a landslide. The was a winter storm in the mountains, and when we finally made it to the end of the road, it took an extra 8 hours to get around Mt. Rainier. The roads were hairy to say the least.

We might have been a little freaked out.

So we didn't get a day off. We had to drive all night to Boise. Nobody said it was easy. The show in Boise was worth it though. We had a great time.

The Great Salt Lake is a dead damn place. They say that Brine Shrimp (Sea Monkeys) are all over the lake, but it and the miles of flat salt surrounding it stink and look like death.

The venue in Salt Lake was great though. It is apparently owned by the director of SLC Punk and his brother. I can't wait to play there again.

This is Matt Fecher. He has a music website in Indianapolis, and he runs music festivals in the west. He is keeping it real in his Melody Inn Hoodie.

Here is the view from Fecher's Balcony in Denver. Fecher showed us a good time, gave us a place to stay, and he even helped promote the Denver show.

We had to up the ante a little from LA, so we decided to throw a banana tied to a helium balloon off of Fecher's balcony.

Here it is in flight.

The folks in South Park, CO threw a harvest Dance around our performance. They dressed in 1800's outfits and tried to call out the ghost of Julia who haunts the Fairplay hotel. Then they put us up in the Ghost room. This is no joke… Breezy and I watched here makeup bag climb out of the sink in the bathroom, flip over, and fall upside down on the floor. It was in the middle of the sink!

Despite battling ghosts, the South Park show was awesome as usual. We love those people. Jayme hates getting up in the morning though.

While driving through Kansas we kept seeing signs for the World's Largest Prairie Dog. I had to see it. We followed the signs for 70 miles, and when we got there it was put away for the winter. So I found this picture on the internet. We should have been standing right there with it. We'll be back though. The venue was awesome.

In St. Louis we were paid a visit by a legend. Yes… Beatle Bob.

It wasn't a bad way to end the tour. I can't wait to get back on the road. This was my favorite tour to date. A big thank you to the fans, friends, venues, and the people that helped along the way. We played with some great bands, and we were treated to some fine hospitality by a great many people.
See www.bigdamnband.com for a complete list of shows. I edited down 500 pics to this. I have some video of the Phoenix show that was taken with my digital camera that I might post as well.